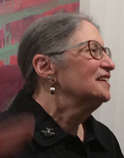 Joan Mellon
Painting for me is a mystery. How, I wonder, by moving paint around on a two-dimensional surface, can I create something that has the possibility of evoking an emotional response in another?
At a young age I was introduced to this mystery by "reading" framed reproductions of paintings by Toulouse Lautrec, Degas, Diego Rivera, Raphael Soyer, Brueghel, Picasso, Van Gogh, Millard Sheets, Maurice Sterne and others that my mother hung on the walls of the apartment
in Brooklyn where I lived.
The first artists' studios I visited were those of my teachers at School of Visual Arts (NYC) where I earned my BFA. These places of wonder where people made things had a hold on me, a feeling that continues with every studio I have or visit.
Making things is what I enjoy doing so I continue to make things. Fortunately, the things I have been impelled to make have been seen by others. To learn more about my work and where it has been seen, click on the following links on the left—"Resume," "Interview 2016," and "About Joan Mellon's Work."