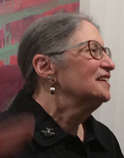 Joan Mellon
I love painting. Abstraction is a satisfying way for me to explore
a great mystery—how moving paint around on a two-dimensional surface by one human being can make for an emotional response in another.
My work can be recognized by its strong use of color, simple composition and the use of paint that often combines flat and gestural brush strokes creating surfaces that go beyond first impressions. Oil paint is my medium of choice but I also use acrylics and work on canvas, paper and wood panels.
At a young age I was introduced to the wonder of painting as I spent hours "reading" framed reproductions of paintings by Toulouse Lautrec, Degas, Diego Rivera, Raphael Soyer, Brueghel, Picasso, Van Gogh, an American named Sterne and others that my mother hung on the walls of the apartment in Brooklyn where we lived.
The first artists' studios I visited were those of my teachers at School of Visual Arts (NYC) where I earned my BFA. Years later I received a MA in liberal studies at SUNY Empire State College (NYC) where I have been an adjunct mentor.
My paintings and works on paper are represented in private and public collections including Franklin Furnace Archives at the Museum of Modern Art, Johnson & Johnson, New York Public Library Print Collection and School of Visual Arts. They have also been seen in one person shows and group exhibitions in the NYC / NJ metropolitan area as well as throughout the United States and abroad.
For a more detailed list of my exhibition history, etc., please see my resume and "About Joan Mellon's Work" on this website.